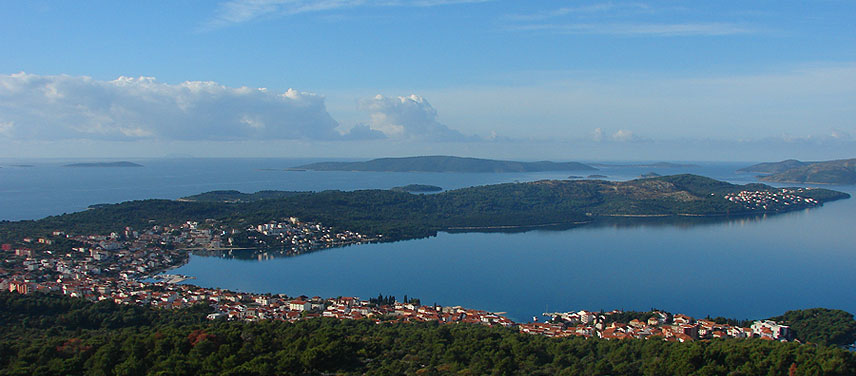 Trogir
TROGIR - 2800 years old UNESCO town where for days you can explore and observe its cultural heritage distributed all over it.
From the Fortress Kamerlengo or the St. Mark Fortress on the western part of town, the Marmont's Monument situated between the two, the town's promenade by the sea – its focal point – the so called Riva, and all the way to the very centre – the town square, where lies one of the most beautiful european cathedrals, the Cathedral of St. Lawrence on whose entrance there stands the famous Portal of Master Radovan, the unique work of this great Croatian sculptor.
Besides the offer on cultural level, for all those who come to Trogir in search for fun, entertainment or simply want to relax on a beach, they as well can find something for themselves.
It is a town where on every street and town square one can feel the spirit of those centuries in which great artists were creating their artistic works that have made this town the way it looks nowadays, and yet it will not go unnoticed the minimal impression of modern life which after all did not ruin its medieval beauty, well-known and recognized in every touristic travel package that offers more than one-day tour.
Island Ciovo
It's famous for its Mediterranean climate, rich subtropical vegetation, archipelago of small picturesque islands, innumerable small hidden bays and beaches. Total surface of the island is 28,8 km2 and there are several places: Okrug Gornji, Okrug Donji, Mastrinka, Zedno, Arbanija, Slatine and Ciovo. Riviera Okrug is one of the famous tourist destinations in this area. Most people come to Ciovo for the beaches and landscape of vineyards, olive and almond plantations.
"The kilometers-long beach" in Okrug Gornji, the most popular tourist destination in Trogir area, is situated 200m. from apartment. There you can experience a whole-day entertainment programme – down the beach there are many bars, actually day clubs in which urban music is played all along and where you can sip your coffee or cocktail enjoying the sunset.